Turnaround to regain trust for the future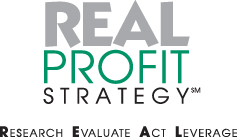 Background
SRI was introduced to a family-owned, second generation contractor operating in the Northeastern U.S., which offers both fixed-price and time / material contracts to the utilities and railroad industries.  The company had annual sales of $20 million, but its bank had lost faith in management and increased oversight of the business due to recent losses.
The owners sought help to regain the trust of their creditor and position their business on solid footing for the future.
Analysis
Upon being engaged, SRI met with the management team and initiated a segmentation of the company's business.  That effort yielded a clearer picture of the company's business lines.  A REAL PROFITSM Strategy analysis of profitability clearly highlighted that losses were the result of performance variance across business lines.  Relatedly, an operational assessment detailed challenges to field labor and equipment utilization.  SRI helped the company bring these financial and operation insights together, putting the business back in control.
The company never connected the dots between its financial and operational performance, and therefore failed to see the real value drivers of the business.
The company was able to leverage SRI's financial and operational assessments to identify several opportunities: improving sales mix, enhancing pricing practices, and maximizing employee and equipment utilization.
REAL PROFIT℠ Strategy in Action
SRI helped the company develop an operating plan that improved decision-making by connecting decisions with their impact on financial results.
The new operating plan targeted improvements across the business:  to 1) improved pricing based on a more accurate and thorough measure of costs, 2) refocused sales efforts aimed at a more profitable service mix, and 3) improved management of field labor and equipment usage.
Results
With the help of SRI, the company has more than doubled its profitability, as a result of pruning unprofitable relationships and setting a foundation for focused profitable growth.  
Margins improved across each of the company's business lines, primarily through pricing and labor / equipment productivity improvements.  The company is better positioned to pursue the right opportunities that improve both top and bottom line performance.  This in turn has improved operating profits and cashflow as a basis for successful refinancing, repayment of family loans, and implementation of a succession plan to transition the business to the next generation.