Stabilizing operating results to achieve profitable growth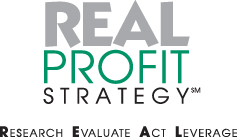 Background
SRI was introduced to a family-owned arbor culture and tree service company in the Mid-Atlantic U.S., which offers general tree and plant care, landscaping and vegetation management, and lawn care services. Annual sales at the company had been steady, but recently the company had experienced inconsistent operating results.  
The owners sought help to stabilize performance and enable the company to grow profitably.
Analysis
Upon being engaged, SRI met with the management team and initiated a segmentation of the company's business.  That effort yielded identification of five discrete businesses contained within the company's services portfolio, which up to that point had never been managed separately.  A REAL PROFITSM Strategy analysis of customer profitability for each business identified issues of profitability variance and sub-optimal utilization of field labor and equipment.
Variance in the company's performance was being masked by a mistaken view of the business as a single entity, rather than as a collection of distinct businesses with their own unique value drivers.
The company was able to capitalize on a new set of opportunities for each of its newly identified businesses: improving sales coverage and deployment, enhancing sales processes and techniques, maximizing employee productivity and equipment utilization, and better pricing practices.
REAL PROFIT℠ Strategy in Action
SRI helped the company create a new profitable growth strategy and worked side-by-side with management to bring it to life.
The new profitable growth plan organized the company's efforts around several key areas:  to 1) improving salesforce effectiveness through better account management and value selling techniques,  2) margin management based on a more accurate and thorough measure of costs, 3) refocused sales efforts aimed at a more profitable service mix, and 4) improved management of field labor and equipment usage.
Results
With the help of SRI, the company has doubled its profitability, while also improving asset productivity.  
Improved operating profit and cashflow has provided the basis for a successful refinancing, and the business is on the move.  The company moved into a larger facility and invested in more equipment.  Additionally, the business has added sales representation and increased its production team – all while on a path to drive profitable growth.